Journey To The Top took place on the Queen's Birthday public holiday, when we would usually be gearing up for the Hair Expo awards that night. The Virtual Hair Experience gathered a myriad of inspiring industry names to ensure that motivation and education would be in no short supply on an always-important day for the salon community.
COVID-19 has thrown the world into turmoil but the hairdressing industry continues to find ways to inspire, motivate and learn during this time. The latest example was an online event, hosted by the Box Hill Institute and Sharon Blain Education and titled Virtual Hair Experience: Journey to the Top. The online event welcomed iconic hairdressing names to share their hair experiences on June 8, when we would all usually be at Hair Expo, forging a spirit of growth and togetherness, even in times of distancing.
"The primary purpose of the online event was to attract more people into the industry and keep our youth engaged, showing then the potential of how far they could go," said co-producer, Jane Trewin, Executive Director of Educational Delivery at Box Hill Institute.
Everyone who missed the event can still view it via streaming till 8 July thanks to co-producers Box Hill Institute and Sharon Blain Education. Small viewing parties thrived on the day and remain a great idea to share the experience with other hairdressing colleagues and friends.
With appearances by Errol Douglas MBE, Tabatha Coffey and Mark Hayes, as well as current Hair Expo Hairdressers of the Year for Australia and New Zealand respectively, Dee Parker Attwood and Danny Pato, a truly dynamic event was born.
Kobi Bokshish told his inimitable story of starting hairdressing in the Israeli army and the enormous accolades he's built from those beginnings, while Jayne Wild discussed her own work ethic and approach as it pertains to constant improvement necessary for success in the industry. This discussion happened in Sydney with interviewer Gary Latham, who also spoke to Lisa and Emiliano Vitale to gain their enormous insights and expertise as industry stalwarts.
Switching from Sydney to Melbourne, Joey Scandizzo was in conversation with Dee Parker Attwood and multi-award winner, Hermiz Daniel, each of who have journeys in the industry so worth hearing. Show host Richard Reid connected the locations, bringing an authentic feeling of Hair Expo to the festivities.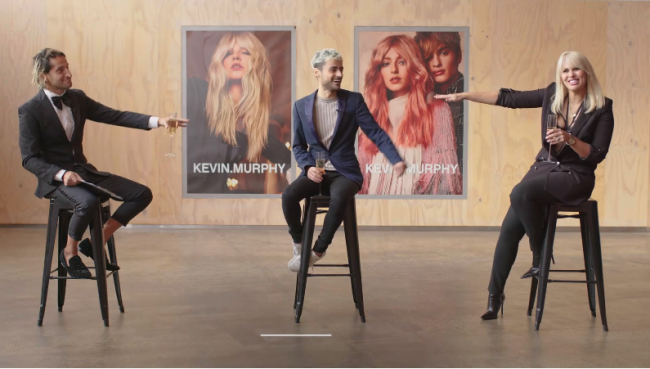 Other important testimonies came courtesy of Benni and Jules Tognini and the unique father-son relationship that informs their careers and experiences in hairdressing, as well as their passion for education. Renya Xydis of Valonz put out a powerful message about taking initiative and achieving your dreams, which, as a renowned runway and editorial hairdresser, she has. Both Renya and Steve Corthine of Stevie English Hair agreed that the number one quality for success was hard work and determination, as well as distinct but worthwhile points of difference in the salon.
New Zealand Hairdresser of the Year, Danny Pato provided more useful intel in his moving and enlightening tributes to hairdressing and why he pursued the field, showcasing the opportunities, experiences and memories the industry has afforded him in journeys around the globe.
Organiser Sharon Blain was the grand finale, talking through an incomparable industry career of over fifty years – one which has shaped the global industry, styling and the face of education, showing that the possibilities are endless.
The event remains available to stream so jump in at any time until July 8 for these invaluable insights and spend some time with a few industry legends.
Tickets can still be purchased for only $20AUD at https://www.tickettailor.com/events/boxhillinstitute/372084