A lot has happened for a brand that launched in the United States just over a year ago. How does a colour brand when it used to take years to reach more than one state in America, Pulp Riot burst onto the hairdressing colour scene in all 50 states in just three days, writes Cameron Pine.
Then on came Canada, South East Asia and now Australia and now with more than 500,000 followers on Instagram – the brand has built momentum of enviable proportions.
"We started with education – we created a brand before even releasing a product – ultimately hairdressers want inspiration and ways to better their business," said Pulp Riot founder David Thurston.
Brand founders David and Alexis Thurston opened Butterfly Loft salon in Los Angeles in 2010 on Ventura Boulevard in Encino – it is one of the world's biggest salons with 70 stations and more than 100 people who work in the space. Picture giant windows, lots of natural light with an eco-luxe vibe and you've got one of the most appealing creative spaces in Los Angeles. It was the first of its kind to provide both the rent a chair style studio suites as well as their own staff – the salon is known as a real education and creative hub in hairdressing with aspiring colourists and stylists travelling from all over the country to be a part of the Butterfly family.
As David explained, "we had to go big – we needed a hybrid for what we are all about – the first in the US to combine a conventional salon and suites."
It's this sense of family value and true conviction demonstrated by David and Alexis that translates in the product line – completely upfront and honest in their approach it is clear they are there to support stylists and create relationships first and foremost and not just exchange products and for many salons this has been a refreshing and colourful way to do business, pardon the pun.
"Australian hairdressing is super-hot and has a polished approach to hairdressing so it's a really good fit – most of the hairstylists love what they see and they want a colour line that can be both expressive and educational," David said.
Successful in lining up leaders in the industry to educate in their space, think creative masters like Robert Cromeans and Sonia Duff – Butterfly loft is a drawcard as as such Pulp Riot has caused quite a stir and they are blessed with a waiting list.
"We treat our product as paint, it lasts longer than competitors, with full vibrancy and we have everything from bright colours to clear – our new neon colours actually glow under black light," David said.
Instagram has been a real game changing business tool for Pulp Riot and Butterfly Loft – they just started posting bright colours and things that resonated with them, watching what people like.
"It's a case of the more likes you get on the photos this algorithm takes control of what people see and all of a sudden you are in control of what your brand is and how its seen," David said.
"We are known across the world for bright colours even though a lot of our clients don't get bright colours. We dictate our brand. Whatever we put in goes out," Alexis said.
While some people may think bright colours are a 'trend' and not a lasting movement Alexis believes whole heartedly in the application of Pulp Riot to salon work where traditionally a more conservative approach is taken, built on the simple fact that colourists need a bit of a creative platform with engaging package and a strong brand culture to mix up their day.
"For us it's more than a culture shift than a trend – just like tattoos, they are not going away and its about increased acceptance," Alexis said.
There's certainly a shift between colour being a cheap trend and being a luxury salon service. Pulp Riot is more rallied in the business of luxury than it is the cheap thrills associated with whatever the latest craze in haircare was.
"There's still a misconception that it has to be the full head but the colour can be just a piece or the ends – it's a playful brand," Alexis said.
The range includes 21 shades of vibrant pastel semi-permanent colours that are easy to apply, last longer and fade better tipped by the marketing tagline – 'You are the artist and Pul Riot is the paint'. Two years in the making there are some exciting things to come with blonde and developers – making them a true colour company. Add the clear into the mix that David and Alexis can't understand why other companies have launched a clear before – it really helps to push the creativity of colour formulas.
Partnering with Rogue Beauty in Australia and backed by Luxury Brand Concepts in the United States David explains the fit that luxury salons are the type of clients they like to approach with Pulp Riot and as Jared Fisher from Rogue Beauty confirms, "It's something for everyone – there's no strict requirements to stock a product that can boost any salon," he said.
"The brand has a certain craftsmanship to it. When people buy our products they feel really good about themselves. It's similar to when someone bought their first iPhone they felt really good about the craftsmanship in it. It's all about art and our brand is about empowering brands to think of themselves of artists and not just stylists. We really push and encourage this," Alexis.
Rather than spend any time and money advertising to consumers, Pulp Riot spends all of their time on the artist community and hairdressing salon – "That's our consumer and if they get caught up in the artistry of the brand, so does the consumer," David said.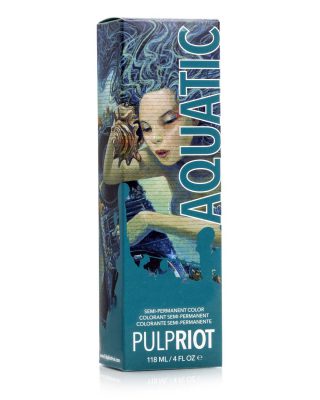 Looking into launching a competition using the neon range – expressive the differences of the brand through the community has become a key standpoint.
In the United States there are as many salons stocking Pulp Riot as there are total salons in Australia but it doesn't feel like they are coming in cold with partners like Rogue Beauty. According to David and Alexis, Rogue let's people know that they are luxury. "We work with a company (Luxury Beauty Concepts) that has the exact same brands in the United States and they have invested in our brand – we sit well with luxury.
Rather than hide colour tubes at the back bar, many salons who stock Pulp Riot merchandise the embellished packaging with other retail products – creating demand for consumers to say 'I want that' – subsequently booking in for a salon service.
On the future the brand's growth is seeing the realization of a new Headquarters directly next to the salon to ensure the cult following continues and the brand's direction is in the hands of a family and salon focused business.
With the ability to shape the brand wherever which way and the power of social media – education sessions can sell out in a matter of seconds just from one Instagram post. "If we launched this brand without Instagram, we wouldn't be in Australia right now."
"The magic happens when there is zero degrees of separation between those who use the products and those who make them.
For more information visit roguebeauty.com.au
Click here for Styleicons|TV.