Architect of Sydney Opera House, Jørn Utzon and Australian fashion Queen Carla Zampatti share a pertinent commonality in ageless design, making the execution of the latter's 50th fashion-anniversary within the arched concrete identity a clever choice.
Carla has made a trend of diarising her annual spring summer show the week prior to Mercedes Benz Fashion Week, ensuring a totally captive audience including our town's celebrity A-list, but more importantly the finest in creative talent, which this year included one of our all time favourite hair directors, Daren Borthwick. Leading a tight TONI&GUY team, Daren manifested an elegant strike between hard and soft, relying on the session prowess of label.m to make it a runway reality.
"Basically it's an elegant take on a (Justin) Bieber hairstyle," laughs Daren, never one to dramatise a brief for the sake of it – exactly why we love him.
"Originally I went for a Bieber (helmet) but then went into something more elegant. It's essentially a low pony with pieces of hair left out around the face which allows the style to move when they walk – it gives a little bit of lightness, not as hard. I wanted hard but soft, something reflective of Carla's collection.
As always, Carla's instalment offered something for every woman – classic, long sexy silhouettes in black and white with back exposed and a race-ready tier of bright yellow and pink – ruffled shoulders and silk cape-like pieces for the girl who likes a statement.
FABY's Dusting Sugar sent a shimmer down the runway on the model's nails, while the soft pink Buena Vista toenail polish complemented hot pink shoes.
For Daren, the firm element translated through a style close to the head, "it's quite severe in that sense but with all those loose strands around the head, it becomes more romantic."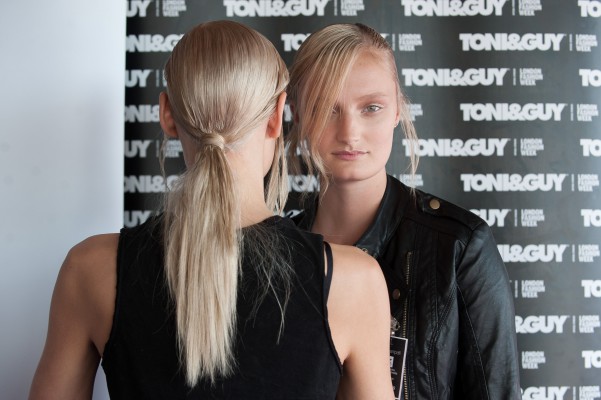 Daren and team's hero product was the label.m Gel, applied to the hair at the roots and combed super flat to the head, with the ultimate in preparation, label.m Volume Mousse coming in at a close second.
Just before the girls stepped out onto the Opera House's royal purple carpet to the sound of a live orchestra, Daren hit each head with a solid spray of the label.m Shine Spray and label.m Hold and Gloss – delivering a high-shine, high-society finish.
Is this super sheen something we can expect to see more of in spring summer 2015/2016?
"I hope so, because I'm a bit sick of this beachy raw hair, especially in a setting like this. In this kind of environment, when you go to a show, I like to be entertained," said Daren.
So do we, and entertained we were. Thanks Big D x
Click here for Styleicons|TV.