Marie Uva is a well know name in the national and international hair industry, with Uva Salon as her own titular space, tens of thousands of Instagram followers and brand ambassador relationships with major companies – notably, ghd. Marie was recently in Sydney to launch the new helios tool from the brand and we caught up with her to check in with her thoughts on the new tool and how it pertains to current trends and styles.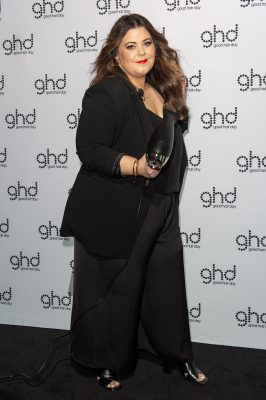 How did ghd helios surprise you when you first used it?
The power is amazing, it's so much quicker! It's also so lightweight, and the results on hair are incredible.
What is a surprising technical tip you do when drying clients' hair?
Always dry the hair until it's 80 per cent dry before you put a brush to it. It takes out all the moisture and it'll make it easier for your style to last.
Would you buy Helios for yourself? Does it make your life easier?
Absolutely! 100 per cent, I love it.  It's great for time management because it cuts the time down for my blow-waves which is so important in salon. It's powerful enough to get the results that I want, it gives me styling control so I'm able to get the body that I want in the hair, it's lightweight so it's easy for me to hold all day long… and I can keep going! I was given a helios to trial in the months leading up to the launch and I love it so much that I still haven't given in back!
What do you think clients will love most about the ghd helios?
That it's so lightweight and so powerful. When you're drying your own hair – especially if you're someone like me who's got a lot of hair – it's hard to sit there with a hairdryer for ages with your arm up at weird angles. So the fact that the ghd helios blow-dries in half the amount of time and it's good for your hair and isn't going to damage or ruin it, I think clients will love.
What are your clients looking for from a hairdryer, and how to you think ghd helios meets those needs?
They want the results that they get in salon, and that's what the ghd helios can give them – it's  going to give them the power and faster drying time, but also a really great style which lasts, you know it's not going to end up being flyaway or fuzzy halfway through the day.
How do you think the different colours will be received by clients?
I think my clients will love it. I think for me I prefer black, just because it looks nice in the salon, but my team have begged me to let them choose their own colours and I've allowed it because they just all look so chic.
Favourite blow-dry look to create?
I love a big, beautiful, bouncy Victoria's Secret blow-wave. To do that with a brush is an ask and something that clients just can't get at home, so as a stylist that's what I love to get.
What's the first blow-drying tip you got as an apprentice?
Always dry the hair until it's 80 per cent dry before putting a brush to it.
Why do you love partnering with ghd?
I just love that ghd create professional products that are high-end, that are recognised around the word, and I know whether I'm talking to my celeb clients or my salon clients, they'll also love it. And by using ghd tools they're able to replicate the looks that I do on them in salon – so it's a win-win for everyone.
What is your favourite career moment with ghd?
I just partnered with ghd to go to the Grammys. To do hair for someone that's walking  on the red carpet for the Grammys was definitely pretty amazing!
For more information visit www.ghdhair.com/au