Touted globally as the 'next plex…but better', the restorative powers of Khairpep have been wowing hairdressers around the world for the wonders it's working on damaged hair!
Innovations are the building blocks of creation, and with each innovation we are introduced to new concepts and products that occasionally take us to the next level. Bond and Plex products have been amazing in their innovation and many of us have celebrated the work they do.
Next up, we have Biomimetic Science (K18 Peptide), which allows us to mimic or mirror the architecture of the internal structure of the hair, returning it to its near-natural virgin state.
So, it appears things just got hotter! Now we can offer clients an internal repair as opposed to a cosmetic repair. If you want to truly offer your clients healthy hair, you must begin by healing it from within.
The magic the K18 Peptide weaves on damaged or coloured hair will change the way you do treatments forever!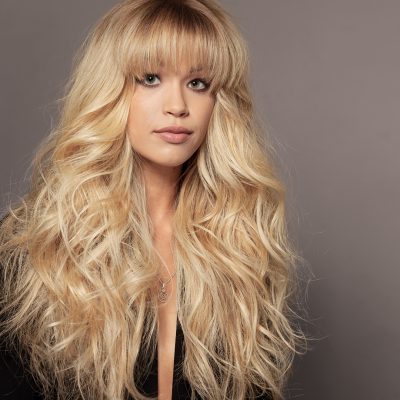 A leave-in hair masque or serum, the treatment acts in just 4 minutes, a definite time saver for both you and your clients. Khairpep truly delivers instant tangible results – beautiful, healthy hair – heightening client loyalty!
The leave-in K18 Peptide contains amino acids that deliver a natural keratin protein to the hair, which means KhairPep permanently restores and repairs the health of your clients' hair, and, unlike other traditional plex products, does not wash out after repeated shampooing.
The patented K18 Peptide is an Oligo Peptide (long chain peptide) that can penetrate human hair right down to the cortex, permanently repairing the hair's internal disulphide bonds – returning the hair to almost it's virgin state, right before your eyes!
The return of hair strength, elasticity, manageability, and above all else, SHINE, is undeniable and definitely a welcomed result with clients!
As salon clients are returning to the chair they are more valuable than ever, and offering the best service and treatments is paramount.
According to KhairPep co-founder Suveen Sahib, creating the base of healthy hair is the answer.
"Over 500 Australian salons are now using Khairpep within their salons and colour services. If you can create healthy hair as a base, the hair is less 'needy'; it allows colourists to bring magic to the hair, and this magic lasts longer," says Suveen.
Now to recap – why are hairdressers globally geeking out over Khairpep K18 peptide and why is it the innovative and super alternative to plex's?
Khairpep works in just 4 minutes (30-minute treatments are just too long, esp. with recent social distancing laws in place)
Khairpep does not glue together bonds, instead it re-generates bonds, mitigating damage from bleaching by up to 82% (when using the serum/masque)
It's profitable ($0 labour costs, works in 4 minutes). Salons can make $2000-$3000 in extra revenue from Khairpep in salon service.
Selling the take home is easy – clients INSTANTLY feel the difference in their hair at the salon
Application is super simple for your clients. Shampoo skip the conditioner, towel dry the hair, apply and wait 4 minutes. Then they are ready to style as usual.
"Khairpep is 100% the best product we've ever used in the salon – that's [over] any plex, any ritual, anything like that – this is the Number ONE performer we've EVER had our hands on in over 30 years. It's the Number ONE product that we've used treatment-wise."
Carl Keeley, Owner Chumba Concepts Salons & Salon Business by the Keeleys.
"Khairpep outsells any other retail treatment we have ever had – it's definitely a great money maker."
Mel Corthine, Stevie English Hair
@khairpepaustralia
Ph: 03 9583 1575
Email: khairpep@luxbc.com.au