Barber Art by Juuce is an Australian born brand inspired by our Australian lifestyle.
The art of styling the modern Australian man is minimalist, sporting and understated. Barber Art's grooming products create stylish, masculine looks for every day lives.
The Barber Art ethos is – play the hand you're dealt and live life to the full, with great hair every day!

CONSTRUCT STYLING CLAY
Perfect for creating massive texture with mega hold for long lasting hairstyles.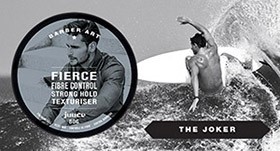 FIERCE FIBRE CONTROL
Dry fibre wax with strong hold, spreadable, pliable all day control, add shape and define style.

INTENSE ORIGINAL WAX
Shapes hair and beard for all day texture control with firm hold.

EXTREME HARD MUD
Low sheen styling mud with brutal hold to last all day.
For more information phone Hairjamm on 07 3850 6200 or see your sales agent for our great opening deals.