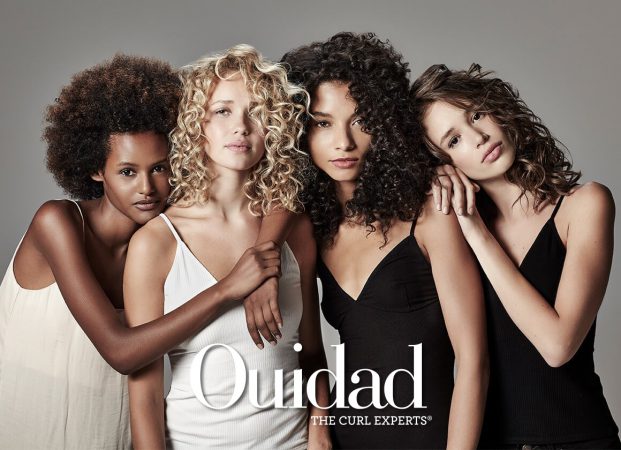 Humidity is every curl's nightmare. Ouidad, the original curl experts since 1984, have the solution for all curl types – from classic, loose, tight or kinky. Let curls be curls!
For truly frizz-free, smooth and shiny curls, you need to prevent frizz before humidity wreaks havoc on hair. Ouidad Advanced Climate Control range locks in moisture and locks out humidity. Anti-Frizz Nano Technology ensures defined, shiny and frizz-free curls with the assistance of nourishing emollients and ceramides. The Ouidad Advanced Climate Control range features 5 products to give your clients' the ultimate curly hair routine.
Cleanse and Condition
Ouidad Advanced Climate Control Anti Frizzing Shampoo and Conditioner harnesses silk-derived Anti-Frizz Nano Technology to lock in moisture and lock out humidity. The sulphate free formula contains advanced blends of emollients and ceramides, including shea butter and murumuru butter, to smooth and repair the hair cuticle.
Prep & Prime
Ouidad Advanced Climate Control Detangling Spray is a nourishing detangler which perfectly prepares and primes curls for a frizz-free finish. A protective shield against heat damage, it contains a myriad of oils to resist natural frizz and environmental aggressors. Moisture is locked in; humidity is locked out!
Style
Ouidad's best-selling and most advanced frizz fighter for all curl types is the Ouidad Advanced Climate Control Heat & Humidity Gel – Stronger Hold. Ideal for extreme humidity or for curls that require more structure. This gel formula transforms uneven curl patterns into consistently formed, well-defined and frizz-free curls with strong, long-lasting hold.
Ouidad Advanced Climate Control Featherlight Styling Cream defines curls and defends against frizz with ultra-light and pillow-soft hold. This styling cream contains a special blend of lightweight humectants and oils to nourish hair. The result: Frizz-free, softly defined curls which last – in any climate.
The Ouidad philosophy knows curly hair inside and out. Ouidad formulas harness the most sophisticated ingredients and combine decades of curl experience to give your clients the curls they deserve. Let curls be curls! Made in the USA for all curl types.
Ouidad is exclusively distributed in Australia and New Zealand through Dateline Imports P/L. For more information visit www.datelinecity.com or follow https://www.instagram.com/datelineimports/ or https://www.facebook.com/DatelineImportsAustralia/