With innovations constantly hitting our industry to help improve skin tone, texture and our overall appearance, the body has long been the less understood sector of beauty technology, until Elite Body Contouring are changing the game as Sydney's leading body contouring specialists, writes Cameron Pine.
Providing non-invasive and non-surgical procedures with impressive results for anyone from the fitness junkie wanting that extra definition or those who just want a help losing that little layer of the 'good life', Elite's approach to fat reduction, skin tightening, cellulite reduction and facial rejuvenation and many more procedures take into account your lifestyle – a constant struggle where many of us juggle to try and find time to give our bodies the attention they deserve. Elite understand this – with impressive results being achieved with just a few treatments 'in your lunch break' so to speak.
With four clinics in Sydney including a clinic in Bondi Junction, Rosebery, Leichardt and Rouse Hill, the customized journey to a better body starts with a one on one consultation of what it is you are really trying to achieve.
LIPOcel
Elite Body Contouring is the first body sculpting clinic in Australia to have access to LIPOcel – the latest ultrasound treatment for permanent fat reduction and precision body sculpting. This medical grade treatment uses High Intensity Focused Ultrasound (HIFU) to destroy fat cells, while tightening the skin with completely no downtime or no damage to the tissue – say goodbye to bruising often associated with many previous fat reducing devices you can jump straight back into the bikini or work following the treatment – a true legacy of its popularity.
Cryolipolysis Fat Freezing
Since inception of Elite Body, this has been one of the most popular treatments, providing permanent reduction of stubborn fat areas that are often resistant to diet and exercise without the need for drastic surgery. Using a targeted super cooling process, temperatures of the treatment area are lowered to more than -10 degrees Celsius but also use a patented controlled cooling system, an inbuilt LED for skin tightening and vacuum pulsing for accelerated results.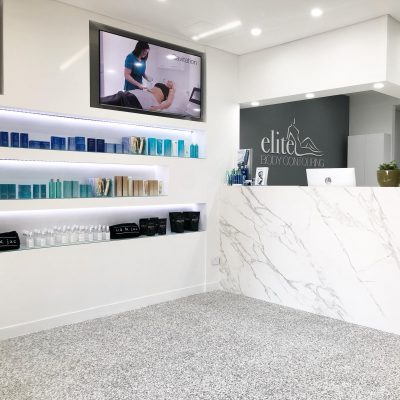 All Elite clinics boast an advanced and minimal aesthetic – in high traffic areas with an aspirational level of quality from entering the doors, it's clear they have taken body contouring to a new level. Clients can also have a variety of skin and face treatments and call in as often as they like to use the body fat monitoring system, if they feel to need to monitor their results.
As much as we'd all love to get off the hook and be able to eat, drink and do whatever we want and still get then same results, Elite recommends clients couple their treatments with an active and healthy lifestyle, and by drinking lots of water to help flush the cells through the lymphatic system and keep your body goals on track. There are many stubborn areas that are just not responsive to diet and exercise alone.
So whether you're looking to improve those stubborn areas, shed fat or just make a more conscious decision to look after your body, it's little wonder Elite Body Contouring has become Sydney's number one destination for that body improvement we all desire. They are passionate about achieving the best possible results without any downtime, and is the first and only clinic in Australia to offer medical grade body composition scans for every client before commencing treatment, ensuring dedicated and targeted results.
All first-time clients receive 50 per cent off their first treatment, and prices start from $998 per treatment depending on the area. They also offer a variety of payment options, including Afterpay and Zippay, making their treatments accessible to all. Currently the Buy one, get one free LIPOcel offer is back at all clinics, with four clinics top choose from.
For more information visit www.elitebodycontouring.com.au
Click here for Styleicons|TV.