We spoke to Monique McMahon, Founder of QUE Colour and Colour Educator at QUE Academy, about her hairdressing highlights, personal style, inspiration points and trends for the future. We love learning from and being inspired by this salon, colour and education pioneer.
How would you describe your style aesthetic?
A little edgy yet classic. I love fine fabrics, clean lines and expensive finishes.
Where is your ultimate holiday destination?
Rainforests with freshwater streams, and oceans that are bursting with marine life.
Pick your poison?
Red wine.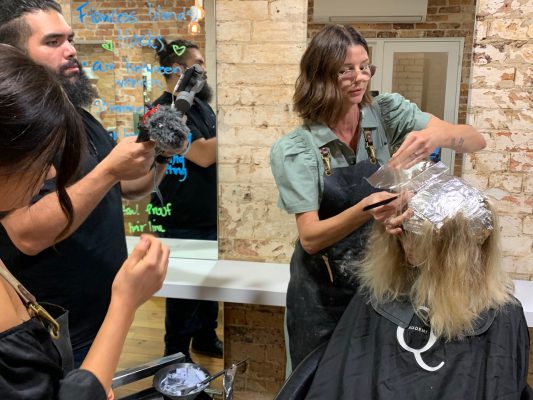 Three desert island hair products/tools?
Lavender oil, Cleansing Mask With Lemon By Christophe Robin, and definitely my Helios hair dryer.
A favourite quote or song lyric?
Stand by me.
Something you can't live without?
My husband.
What is your ideal date?
I'm a sucker for fine food and big city lights.
Favourite Instagram accounts?
This is hard as it changes all the time, but I'm always liking, commenting and taking screenshots of @businessmindset101. Love it.
A hair colour/style you'd love to try?
Blonde pixie.
What is your forecast for the next biggest hair trend?
Get ready for it, as it's starting to creep in now with the E-girl colour… the 90s stripes are back, and we will see the colours become bolder all over. Get ready to see it more and more in different versions. Tone wise, expect to see copper, red and golden become a major trend.
A career highlight?
I feel like there is so much more to come here but career highlights so far – working alongside Christophe Robin in Paris and aligning with his beautiful brand. New York Fashion Week twice with more to come (when travel is back on). Working in NYC. Looking after my clients. Owning and directing my salon QUE, becoming a finalist for AHIA Independent educator of the year, and my QUE Academy education platform.
When do you feel happiest?
There are lots of happy moments for me, but with my family definitely, and when I'm in my salon with my team, and they are on fire! I love seeing them succeed, it makes me so happy.
For more information visit www.quecolour.com