From overloaded colour in 2017 to a Greek goddess with an influence of French deco hair, Wella Professionals Hair Director Renya Xydis made the Romance Was Born Opal Goddess collection a lot more peaceful, writes Cameron Pine.
"Nouveau, deco hair, lots of glitter and lots of shine but not to the point where it's ugly," Renya said.  "This year we worked with lots of headpieces and haven't gone crazy with wigs. We tried to make it a lot more peaceful and a lot more editorial. More to your heart and more soulful."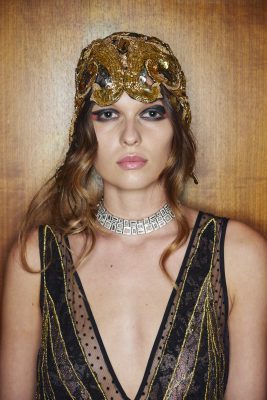 Aptly so, considering guests were transported to a romantic 'mile high club' with Etihad Airways and Hubert Restaurant Sydney – it was much more than a collection, rather a romantic journey with the brand.  Partnering for the first time on Opal Goddess with their long-term inspirational friend and fashion trailblazer Jenny Kee – simple flowing scarf lines sat alongside dramatic hot pink fringing with dip dyed ends – puff sleeves, a few separates and an overall nocturnal glamour – it was, as with every collection a lust it and love it mindset.
Also celebrating the launch of their first book, the brand wanted to remind us that it is a fashion brand that has succeeded on instinct, collaboration and boldness.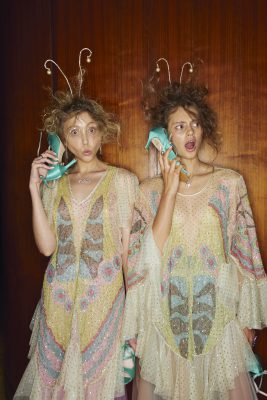 "We're not really a brand that follows mainstream 'trends', however this Resort season we have been talking a lot about off the body shapes; we are vibing billowing maxis and exaggerated proportions," said designer Luke Sales.
"It's a little bit more to your heart and soulful. Very 20s eclectic. A little bit more of a beautiful. We worked with a lot of gold, glitter and headbands. Back from the influence of colour she's a lot more sensual this year," Renya said.
Building on this warmth of a women that just wants to dress up and have fun, guests saw a series of music performances including a string duet, drag performances – entering the event like they were boarding an Etihad business class flight to Paris, sipping the finest champagne and dates before revealing a champagne fountain – it was definitely a journey for the brand and a very 'Romantic' evening for all.
Get the Look:
"Whilst there is usually 5 'hero products' used to create a look, we really went all out here, the full EIMI styling range came out to play," Renya said.
Using a toothcomb, section the hair into two parts, separating the hairline from the bulk of the hair.
Section the hair at the crown and tie high, tight pony tail.
Where required, attach length (hair piece) to the base of the pony tail, ensuring this is tightly wrapped at the 
base, keeping the pony tail separate (you will need two pairs of hands here)
Using EIMI Glam Mist and Perfect Setting, use a soft brush to slick the remaining sections up towards the pony, and fasten with elastic.
Apply generous amounts of EIMI Perfect Setting and Ocean Spritz to the ponytail, until wet.
Use both hands to twist the pony into a tight, solid spiral. Use the hands to twist upwards and get as much 
height as possible – fasten with pins.
Paint EIMI Sculpt Force liberally onto the remaining hairline strands.
Using a small paintbrush, stick to the forehead and arrange in spirals.
Finish the look with generous amounts of EIMI Super Set (to hold) and Glam Mist (to finish).
And finally, GLITTER!
For more information visit www.wella.com
Click here for Styleicons|TV.