Akin Konizi of HOB Academy is a global hairdressing name, and he's here to teach his unique perspective on the ever trending bob and its every permutation.
"The bob never goes out of fashion, the style has just evolved over the years. There are many different types of bob haircuts, and the great thing it is there is a style to suit all face shapes and hair textures," Akin said. "From the graduated bob to one length or inverted bobs, the change of angle is what makes it different. The bob is the most important and valuable haircut that you can do, because it will always ensure you are developing your technique for the perfect haircut. Creating the perfect bob is the holy grail for most hairdressers!"
Akin delineates bobs into the following categories, starting with the classic bob, followed by the square bob.
"The classic bob style is one length all around the head, and is typically chin length. There are no layers, so can be blunt cut or point cut if you want it to be softer," he said. "The square bob has that shape with a square, strong fringe, it was popular in the 80s and is making a comeback. It is typically jaw length."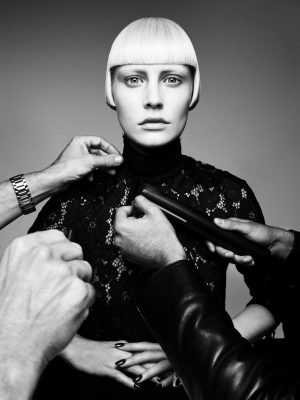 Akin also instructs on the inverted bob, which is shorter at the back and longer through the front and features a tapered back with lots of layers for a curved finish. He finishes with a graduated bob, one of the more common types of the style. "Stacked layers through the back give the style a curved finish, getting longer towards the front," he said.
Reaping the benefit of Akin's incredible styling and educative experience, we sourced his top tips any hairdresser needs to know to achieve bob success.
"All bob lines should start at the centre back and end at the front," he said. "One continuous flowing line, with no joins, and typically the last hair at the front of the line should be the longest – that's the sexy bit!"
With so much grade-A bob intel now at your fingertips, go forth and improve your skills on this eternal style.