Akin to your favourite pop stars, or superheroes, teaming up to create a dominant super group, Dyson congregated some of the biggest names in hairdressing to kick off their Professional Education Roadshow and national tour.
Starting in Perth on Monday, May 27, the brand's hair ambassadors, including the inimitable Damien Rinaldo, Jayne Wild, Frank Apostolopoulos and Peter Thomsen enthralled the crowd with their skills and the power of the Dyson styling tools.
Hair highlights included Damien's signature Boris Curtain Bang and Boned Pony, created for the crowd, with the hair legend teaching attendees how to achieve this elegant and iconic look. Jayne Wild and Frank Apostolopoulos also showed off their editorial talents, with a glitter glam aesthetic and live cutting to showcase why they're two of the most respected and decorated hairdressers in the industry.
Long-term Dyson ambassador Peter Thomsen taught how to create the ultimate bodied, voluminous style with the all-new styling must-have Dyson Airwrap™ and it's inimitable coanda effect. From a playful perspective, attendees experienced dynamic image taking with GIF machine and had the chance to use the Dyson Supersonic™ hair dryer in their own hands for a photo opportunity. Goodie bags and exclusive stylist pricing for the covetable Dyson tools made the night all the more fun.
The Roadshow will continue on its national tour, heading to Melbourne on August 26 with huge names such as Damien Rinaldo, Joey Scandizzo, Peter Thomsen, Jayne Wild, Frank Apostolopoulos and Renya Xydis in attendance. It will then move to Sydney on November 11, for a show at Carriageworks that boasts these same impressive names.
There's still plenty of time to book your tickets to Melbourne and Sydney so make sure you don't miss out on this huge education opportunity.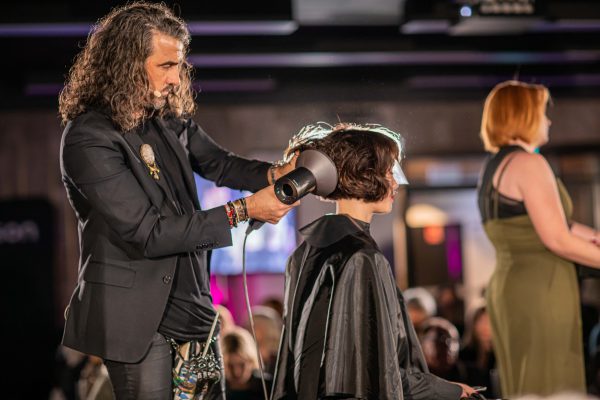 For more information visit dyson.com.au/educationroadshow
Click here for Styleicons|TV.