Three days of pure hairdressing just took place at Hair Expo 2019, overwhelming Sydney's International Convention Centre with hair brands, shows, events and, importantly, education. Beyond the floor, the stages and the parties, there was some important work being done in the education classrooms of the ICC, with attendees learning about business, social media, hair health, hair styling, cut and colour and more in a series of sessions, presentations and classes taught by national and international hair legends.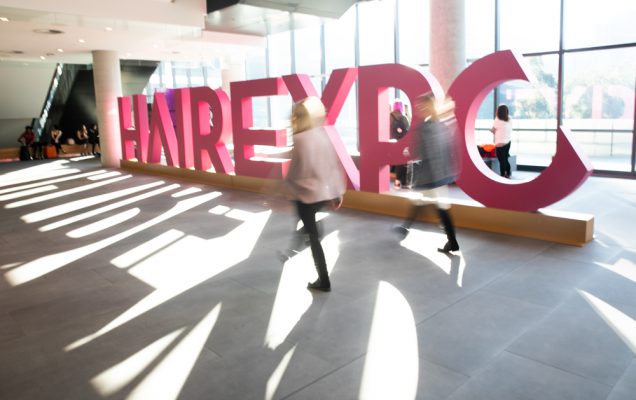 The biggest global headliners came with much fanfare, as celebrity stylists, colour gurus and business experts descended on the expo. Famed Aussie expert and TV star Tabatha Coffey was a particular highlight, as she offered exclusive one on one coaching and intimate group sessions to offer extremely personal and relevant advice to businesses. She shared her extreme expertise and knowledge on every day of the expo, working to truly transform salons with relevant intel.
Candy Shaw, AKA the Balay Lama, was another international headliner, educating on the floor and in the classrooms with her Painting Balayage 2.0 workshops. Candy taught her expert tricks of the trade, such as the soft touch, handle placement and emotional attitude necessary for balayage. She educated from an extreme technical standpoint, while also offering easy to use hacks, like her tip to "colour the cut, rather than cutting the colour", knowing where to leave dark tones to enhance the light, and her "shoe-stringing" application and "crack the egg" colour melt techniques.
Jen Atkin completed the trio of huge global pulls to the expo, educating her Once In A Lifetime masterclass on behalf of electrical styling juggernaut Dyson. Jen showed off three expertly styled looks with the Dyson tools and praised the all-new AirWrap in particular as a game changer of modern style. Afterwards, attendees queued for a meet and greet and selfie with the famous hairdresser in a line that snaked through the education hallways.
The Sunday full of education ran the gamut, with hands-on workshops, business workshops and more. In business, Lorna Evans taught her secret formula for bridal success and pricing, while Claire Deane focused on the power of online content to transform followers into actual salon clients. Neil McCalum delivered a business session that offered complete transparency in how to achieve salon success, and Billy Rickman made the business side personal by coaching on mindset.
Creatively, Franck Provost showed off live cutting and styling, as well as their famous pre-done balayage, in a variety of looks, hair legend Sharon Blain showcased a look and learn on her Masters Edition, Maher Aslan presented dramatic hair transformations to wow the audience and Dove Palmer and his team showed off their unique salon method. The Australian Hairdressing Council once again proved their industry impact by introducing attendees to a group of disruptors, and Uros Mikic, as well as Sharon Blain once again, made education practical with workshops where students could learn from the best with real tips in the moment.
On Monday, new education opportunities ranged in topic from a variety of legendary educators. Award-winning educator Dario Cotroneo led the pack with his morning session, and Educator of the Year Jules Tognini followed up with his Dudes session on men's hair. Barbering had particular focus as the WAHL Education and Artistic Team showed off their disruption collection of male looks and Eoin McCarthy showcased a modern approach to men's cutting, while Jordan Tabakman concentrated on flawless fades.
In business, social media continued to prove pivotal. Heather Porter instructed on growing your business through Instagram, before running an advanced social media boot camp, which acted as a workshop in which students followed her key insights step by step on their laptops to build their audience and maximise it for professional gain. Marketing was another relevant business topic coached by Billy Rickman, while Mick Dwyer delivered extremely useful tips on how to increase profit and get the most out of your price list. Bernadette Beswick showed versatility with two sessions, one on consultation and the other on cutting skills, both so relevant to the salon professional.
Creative hair hosted brands such as Pulp Riot, whose international team presented their explosive colour to a captivated audience, and the Barbery Artistic Team who showed off their Switch collection. Lorna Evans taught her long styling in tips relevant to the set and the salon, while Dove Palmer delivered more creative education. Trichology was a supreme focus in a two part session on hair and scalp health by De Lorenzo's Megan Yabsley and Simone Abaron from Apotecari.
The final session of the expo was thanks to EDVOS, and entirely free to attend to make a true difference to the hair industry as they taught hairdressers the 3 Rs, how to recognise, respond to and refer when faced with family violence experienced by their colleagues and clients. The seminar ran through the shocking stats of violence against women in Australia (two women die every 10 days from family violence nationally and it's the leading cause of death and disability for women aged 15 to 40 in the country), showcasing its significance in our female-driven industry. The seminar walked through a hairdresser's role in this crisis, what warning signs to look out for and facts of what to do and what not to do. For example, it's important not to tell your client to leave their violent partner, as this is the most dangerous time for victims. Surprising lessons like that showcase why this seminar is so important for anyone in the trusted, important role that hairdressers have.
With this significant seminar ending the weekend of education, it's clear that every facet of the hairdressing world was covered in full. If you're looking to better yourself as an artist, business person or even just human being, Hair Expo is the place for elevation every year.
For more information visit www.hairexpoaustralia.com
Click here for Styleicons|TV.