Welcome TEKNIA, the newest innovation from Lakmé that prioritises natural care, ritualistic beauty and a laser-focussed passion for the environment in nine diverse and comprehensive ranges. Take it as your new haircare obsession that goes beyond the industry and into our communal planetary duty.
If you've been looking for shampoos, conditioners, oils and treatments from a trusted brand and with natural haircare as a focus, Teknia has you universally covered, committing to hair health, planet preservation and innovation at large with this new range. The brand sees it as an act of responsibility for the future, making a stand for conscious beauty as of the Australian and global launch in February 2020. The key tenets of the range focus on sustainability, organic hair, veganism and eco-friendly formulations.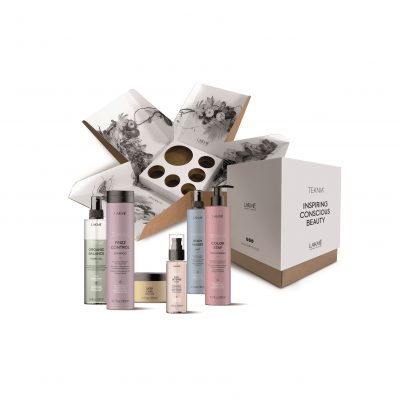 These core facets seep into every aspect of the new range, from its design to distribution, choice of packaging, production processes and raw materials through to the recycling of the final product. Partly inspired by this quote by naturalist, author and wildlife photographer Sylvia Dolson, "nature is inexhaustibly sustainable if we care for it. It is our universal responsibility to pass a healthy earth onto future generations", the ethos of Teknia can be seen and experienced loud and clear.
The range is produced out of Lakmé's highly technological production facilities using bold innovations such as its cold production processes that provide a 27 per cent saving in energy and time. Energy is further saved by the use of solar panels, with methods also in place to manage waste and save water. Building on this production process, each product is formulated with eco-friendly, organically sourced ingredients from sustainable crops, complying with ECOCERT Greenlife natural and organic cosmetics standards. The products treat the user as well with sensory fragrances, inspired by nature and enhanced with natural essential oils.
The products are true to their mantra when it comes to their vegan promises. All products are vegan and not tested on animals. They do not contain any ingredients of animal origin, nor generated by animals. The products are built from raw ingredients that are selected from organic sources, while its extraction methods further minimise environmental impact to preserve natural resources. Packaging is made from sustainable and recycled materials and is in turn 100 per cent recyclable.
The range can be broken up into sectors of Organic Balance with a hydra-oil, shampoo, treatment and oil, Full Defense for stressed hair with a serum, shampoo, treatment and mist, Frizz Control with a shampoo, conditioner, cream, protector and treatment, a Body Maker mist, the Deep Care shampoo, conditioner and drops, and Color Stay's conditioner, shampoo and treatment. White Silver offers further personalisation with a shampoo and mask, while Perfect Cleanse shampoo is another hero product. Color Refresh in hues of Saffron Copper, Cocoa Brown and Violet lavender offers an ideally tailored shampoo.
The extensive range presents no end to its scope, all anchored by its commitment to the planet. In 2020, Lakmé sees this messaging as beyond even the industry, and more as a universal responsibility imperative for our futures. Moreover, educated 21st century clients demand this thinking of their salons, hairdressers, brands and products in increasing fashion, so your participation is both ethical and commercially significant.
We're all trying to reduce our collective footprints and Teknia does just that with style and with passion. Thank you Lakmé for thinking about the bigger picture and, as always, helping to paint it with your incomparable proverbial brush.
For more information visit www.haircareaust.com
Click here for Styleicons|TV.