Iconic Perth Hairdressing Brand, Maurice Meade have always been at the forefront of  Christmas consumers' minds thanks to an annual Christmas campaign.  2019 marks a special moment with the inclusion salon founders Maurice and Rosemary Meade's grandchildren helping to spread the love of Christmas and family, writes Cameron Pine.
The Maurice Meade salon group are no strangers to bringing their staff together to celebrate and be inspired, now with 120 staff across 10 salons including two (Me by Maurice Meade) salons aimed specifically at the younger generation, the 2019 Christmas Soiree bridged both the commercial campaign aspect of the business and staff culture, this year also including a panel with two guests, Peter Thomsen from the Chelsea and Cameron Pine from INSTYLE magazine.
Peter and Cameron discussed trends and how to ignite loyalty and build closer relationships with clients through concepts like forgoing ego and truly developing a relationship with the client so they come back more often. The need for authenticity and the importance of being real on social media was also discussed as content has become so prevalent and consumers are desensitized – the best content is content that builds empathy through transparency – key to the Maurice Meade brand for being a reliable source of the most trusted hair advice in the industry.
Held over several hours at the Wembley Downs Public Gold Course, staff enjoyed drinks on the deck and were encouraged to dress in Christmas theme, with a winner drawn on the night with Shane Brian winning best dressed in his Christmas suit.
Throughout the day prior to the soiree, in an exlusive opportunity with our well regarded educator and mentor, Peter Thomsen,  a Trend Collective was hosted specifically for Maurice Meade in collaboration with L'Oréal Professionnel. Throughout the inspirational day, Maurice Meade stylists and colourists mastered balayage and the art of transformations – an instrumental part of the Maurice Meade brand and its reputation for consistency and the ultimate transformations. Sharing on social media and helping to inspire other salons and hairdressers in the process became key to a day of taking renewed excitement and techniques back to the salon.
L'Oréal Professionnel State Manager Brooke Adams and Business Development Manager, Nicole Coulter ran through some exclusive partnership offers for Christmas and beyond in a detailed presentation – with the Maurice Meade group often being able to see first-hand some of the key innovations to come, 2020 has never looked brighter.
Some new Majirel Glow colours and some exciting innovations for the backbar and retail in the Kérastase portfolio including a new alignment with AfterPay will continue to push the Maurice Meade salon culture.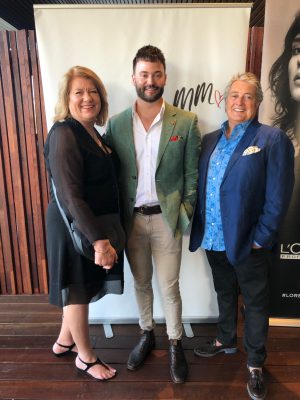 Maurice himself spoke of how proud he is for everyone to come together and with such a great range of incentives and promotions in place how their ambition is to really target the consumer and grow the salons, especially over Christmas. With products across all key areas of demand and the infamous Christmas bundles – there's never been a better time for salon gift giving.
Pre-empting the reveal of the new Christmas television campaign, Maurice's words were, "Am I allowed to swear because how good is this. I'm so proud to have my grandchildren in the campaign and to continue to do what we love," Maurice said as he was pointing to his family on the nearby banners.
As a leading Perth salon brand for more than 40 years it was important to remain consistent by drawing on the family importance of Christmas, with the tagline 'A gift for every wish' aligning with the brand's accessibility from a $155 Christmas voucher all the way up to premium packs including fragrances, retail and a host of in-salon services.
While being accessible, aspiration has always remained a key value of Maurice Meade through luxury services and the best products in the market. What's the key to continued success says Maurice, "A family culture and a strategic way to building customer loyalty, Maurice Meade offers the latest inspiration and news, a strong social media presence and the ability to book online, purchase vouchers and engage the entire family with our brand," said Maurice.
"Our packages and close partnerships with suppliers has always been one of our key points of difference," Maurice said.
"We pioneered an M Class loyalty program before salons really started rewarding loyalty and continue to evolve with the services offered in Me salons and constantly looking at ways to help inspire our staff with events like Trend Collective. Thanks to everyone for getting involved and especially to your work over Christmas. I hope you can take some of this energy back to the salons," he said.
For more information visit www.mauricemeade.com.au
Click here for Styleicons|TV.