"We wanted this to feel a little bit Puberty Blues," was how Richard Kavanagh described the styles he created for Redken backstage at the Bec + Bridge Resort 2020 show. The opening show of Day Two of Mercedes-Benz Fashion Week Australia proved was buzzing pre-show with Richard working his hands at keeping the look casual, young and lived in.
"The hair we're creating is youthful, we're making it very natural and organic," he explained as he worked on the hair of one of the models of the moment, Bambi Northwood-Blyth.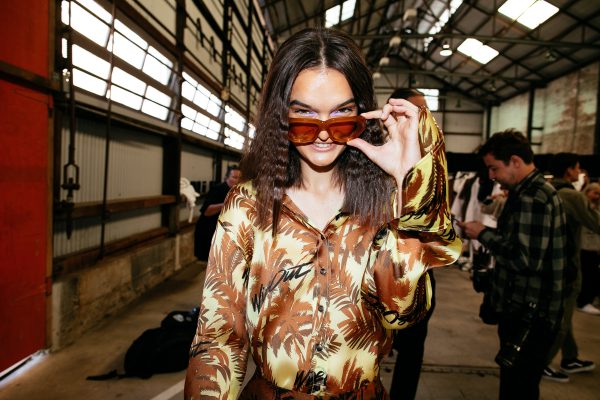 Richard said the hair length impacted the way him and his team styled the hair. "For shorter hair, we are letting the haircuts do the talking and letting the natural texture be the highlight of the hair," he said.
"For longer hair, we are using a three-strand plait in nine sections, which is then heated with a hair iron, or left to dry naturally, before letting it out and keeping it tousled and lived in. The hair has a very natural, slightly androgynous feel with a lived-in textured wave through the mid-lengths creating a narrow silhouette. It is almost as if the girl has naturally curly hair and has been wearing a cap to try and control it."
"It was nice to take Bec and Bridge's vision for the show and translate the personality and character they're projecting into a hairstyle. Keeping it cool, down to earth, effortless and androgynous, while at the same time having a distinct direction and personality."
Richard said the products crucial to prepping and keeping the hair runway ready was the Redken Fashion Waves 07 Sea Salt Spray, sprayed onto the hair before the plaits were put  in, and the Redken Triple Dry 15 Dry Texture Finishing Spray once the hair was being styled post plaits, while his fingers were being raked through the models' hair.
The result? It looked almost like it has been taken to with a crimping iron.
"We've really gone for that lived in, undone vibe," Richard said. "We wanted it to feel as though the models had been wearing a cap to try and keep in flat, which they'd then taken off and just tucked behind their ears. It should feel like the hair hasn't been washed in a few days and is really lived in."
M.A.C makeup maestro Nicole 'Pinky' Thompson was also backstage where she added touches of pastel neon to the inner corner of the models' eyes, framed by boyish brows. Sun-kissed, slightly freckled skin completed the entire Puberty Blues feel.
For more information visit www.redken.com.au
Photo Credit: Life Without Andy
Click here for Styleicons|TV.