A wedding-themed fashion show hit Melbourne as Sydney couture designer Mariam Seddiq showed off her bridal capsule collection at an intimate fashion event. With hair direction by Marie Cain and Redken, a progressive, matte look with intricate high-fashion details was the hair brief for this talented team, complemented by makeup looks from YSL Beauty.
"Leading up to the presentation, Mariam and I spoke about creating a hair look with a fashion forward appeal, yet something progressive and different," Marie said. "We wanted to work with the models natural texture to create a cool girl, effortless, voluminous look with a matte finish. In line with Mariam's collection, it was also important to hold the eye of the audience through detailing, so we incorporated a touch of couture around the face."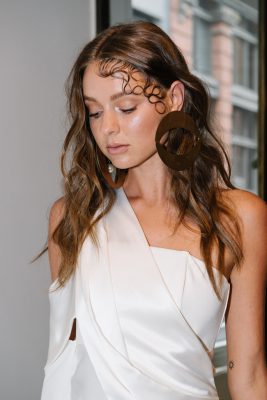 "There is something so special and intimate about working on such an intimate runway show like Mariam Seddiq's Bridal Capsule," hair assistant Sonja Connor continued. "With the talented Marie Cain guiding the hair team through the looks, we managed to perfectly complement the incredible shapes and movement of Mariam's collection. We moved through our part of the runway by playing with the girls' natural texture and using it to enhance the way the hair moves. The intricate detailing on the face shows the complexities of putting the total look of any show together. The creativity from the designer, stylist, makeup artists, hair artists and runway producers came together to create a true master piece of art."
Get the runway look below:
Lightly spray hair with Redken One United, misting through lengths and ends to heat protect and fortify strands.
Depending on density of the hair, apply Redken Rootful 06 (for finer, silkier hair) or Redken Fashion Waves 07 (for thicker textures) and blast it dry with a hairdryer. Create a fluffy texture and avoid brushing or shaping the hair.
With a flat iron on 180 degrees, create an S shape wave on horizontal sections, working around the head from bottom to top. Create a middle part that balances out and flatters the face shape. The two sides should be relatively symmetrical, but not perfectly so.
Leave hair to cool then dress out with Redken Windblown 05 (for thicker hair) or Redken Triple Dry 15 (for finer hair).
For face detailing, pull out a very fine hairline section (hot tip: it is best to pick up most of the baby hair and a little bit more – otherwise it can be too much)
Using a small detailing brush, create an S with the hair and stick to the face using Redken Brews Grip Tight Holding Gel, and bring it down the face. Hot tip: keep a 5c amount of gel on wrist, so you can dab and play as you go.
Finish with Redken Windblown 05 to dust out the ends and make it voluminous and airy.
For more information visit www.redken.com.au