The secret to Styling Session Hair Boutique's success is predicated on one golden rule – put the customer first. Whether that's keeping up to date with necessary education, offering top-tier Joico technology or greeting them with a smile and their favourite drink, this Australian salon does it all.
As most salons know, how you make your clients look and how you make them feel are often of equal importance, and Styling Session fosters a family vibe from the moment you walk in the door to ensure they tick both boxes with aplomb.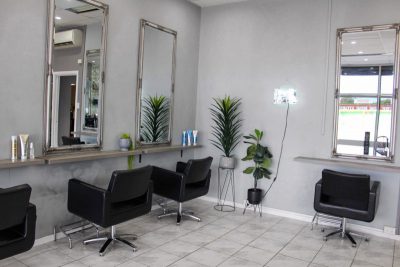 "I believe we have a down to earth, modern environment, that still keeps a family friendly, community feel," salon owner Stephanie Mullins explained. "We make sure it is a welcoming space for everyone, which is why I believe we don't have just one client demographic. We accommodate all ages and hair types."
In offering clients impeccable service for all their hair needs, the right product partner is essential, and Joico's extreme scope and quality provide the ideal complement. Expanding on this, the brand facilitates the salon's growth with important education and seamless business relationships.
"One of the reasons I've loved working alongside Joico for so many years is that they have such a wide range of products," Stephanie confirmed. "We pride ourselves on attention to detail and strong stylist to client relationships. Whether it's always welcoming them with a warm smile as they walk through the door or remembering their drink of choice, customer service is a core value of our salon. This means we also truly listen to our clients' wants and needs and continuing to grow as stylists alongside the ever-building Joico technology."
"Choosing Joico was easy for me as they stood out from other colour companies due to them being the only one with built in K-Pak Reconstructor in their permanent colour range and lighteners," Stephanie continued. "Since then their colour range has evolved whilst still maintaining their number one goal for healthy hair. Their new Lumishine range is blowing our minds with its unbeatable shine and true to swatch toning abilities, perfectly suited for the on trend application of lived In Scandinavian blondes and biscuit brunettes especially when used hand in hand with our favourite Joico product to date, the Defy Damage Pro Series."
The Defy Damage technology is a salon hero, and something the salon hairdressers always recommend as a take home prescription after the salon services. The business also appreciates Joico for their efficiency, to constantly updating releases and on trend education.
"Joico's continuing education for any hairdressing level combined with their amazing guest artists has me excited to watch my staff learn and develop their skills, whilst also being able to bring valuable knowledge and inspiration back to the salon floor," Stephanie said. "Our main salon goal this year is growth. We are excited to network within the industry, look forward to furthering our education and can't wait to see what other amazing opportunities Joico bring for the year."
With the right mindset and a winning formula, Styling Session can't lose. Here's to a big 2020 for this heart-filled salon.
For more information visit www.sabrecorp.com.au