Blonde best friends are the titular and main characters in the new Schwarzkopf Professional #BLONDMEBBF campaign, which celebrates the varied world of blonde hair and alleviates any concerns around major blonde transformations.
In the campaign, the brand wants consumers to convince their best friend to go blonde, making the somewhat exclusive thought of blonde transformations more inclusive across skin colour, hair type, age or gender, and without the fear of damage. The best friend moniker is especially layered, considering the brand's BLONDME® Bond Enforcing Premium Lightener 9+ is something of a product best friend.
Sharing this message with personal blonding stories, the campaign addresses worries around damage, losing the natural bounce of curls or care levels, by encouraging the community at large to showcase their own version of #BLONDMEBBF.
In this endeavor, even the Schwarzkopf Professional Guest Artist team, comprised of Nic Shiun, Natalie Anne, Jason Fassbender, and National Ambassador Dee Parker Attwood embraced blonde shades, exploring the endless possibilities with the in-salon blonding tool BLONDME® Bond Enforcing Premium Lightener 9+.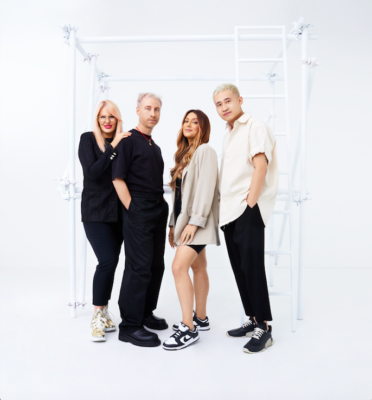 The Guest Artist team has been working on a range of innovative trends and looks, such as trending Biscuit Blonde, created using the BLONDME® toner in biscuit, taking over from previous tones of silver and ash, and suitable to most skin tones.
Working with their salon teams, the Schwarzkopf Professional Guest Artists also transformed well-known figures and their best friends to new blonde shades, including dancer Ashleigh Tavares and partner Bill Mansfield, Takeover E! online host Tammy Christina and her hairstylist Jaclyn Hnitko and Girl Code podcast duo Kaitlyn Rodriguez and Madison Woolley.
In these journeys, Ashleigh and Bill both went with natural, sun kissed blonde tones. "It's definitely risky," Ashleigh said. "That's the fun part about it, it's taking a risk. I have never coloured my hair and I thought in my lifetime I have to try it."
Tammy was given a confidence-building bronze blonde look, which added depth to her curls, while Jaclyn's new caramel blonde was tailored perfectly to her complexion. Kaitlyn went bold with a strawberry pink toned blonde look and Madison opted for a creamy blonde hue.
"Blondes have more fun, they do!" Madison said. "I definitely feel like myself and confident, when I'm a fresh creamy blonde."
Additionally models and influencers Mason Ping, Jason Vuong and Mykeesha Nelson went biscuit blonde, milky blonde and golden blonde, respectively.
These looks have been cared for and maintained by the BLONDME® care range, including BLONDME® Blonde Wonders Restoring Balm and BLONDME® Blonde Wonders Glaze Mist. This reformulated range has also introduced 3D Bond Creation Technology to strengthen hair from within, working across three steps of the blonding service – bond protection, creation and maintenance – to truly elevate quality.
So get some best friends two salon chairs side-by-side and make this season a blonder one, with Schwarzkopf Professional leading the way and artistry always the focus.
For more information visit www.schwarzkopf-professional.com/au/en.html