Award season is here to ignite your most creative impulses, and that artistry is never more apparent than in the Avant Garde Hairdresser of the Year category, where creativity, vision, skill and bold artistic choices are heralded and supported. At this year's Australian Hair Fashion Awards (AHFAs), Bill Tsiknaris of Tsiknaris Hair took out the title. winning for his edgy Transcendent Beauty collection.
With an editorial team that included photographer David Mannah, stylist Josie McManus and makeup artist Pablo Morgade, the collection offers a bondage-style aesthetic, with black leather, lace and ties. Faces are muzzled by these features, with hair showcasing wild textures, unique shapes and original materials to make up each look. Set against a calming blue backdrop, the fire and extreme edge is all present in the hair and fashion styling. Makeup is a powerful tool as well, with dark eyeshadow taken all the way up to the brow and showing just another instance of bold beauty.
The collection heightens traditional hair styles like a bun or high ponytail by elevating their shape or transforming their material, creating something truly Avant Garde in the process. Other looks defy gravity completely, with swirling textures and impressive heights. Let your artistic imagination run wild and check out the collection below.
Credits:
Hair: Bill Tsiknaris
Colourists: Chris Tsiknaris and Anna Dahlin
Photography: David Mannah
Make Up: Pablo Morgade
Stylist: Josie McManus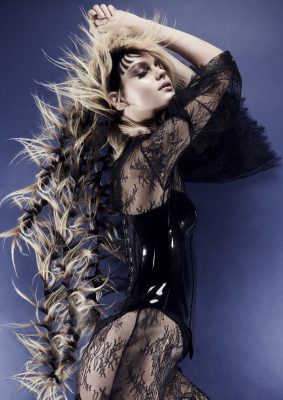 Click here for Styleicons|TV.