Luxury haircare brand Davines teamed up with Candice McKay for an editorial outing dedicated to the powerful female explorer. The colour collaboration acts as an ode to the fearless adventuring spirit, a celebration of female wanderers and their defiance of the status quo.
With eight looks in the collection, each one captures a global culture and the images' vast international reach. Diversity is key, so wild textures, short crops, Avant Garde shapes and edgy cuts each pervade the collection, giving a sense of both Eastern and Western beauty, and everything in between. Bold, multi-dimensional colour, including rich hues, subtly vivid and colourful details and warm, wearable tonal variations, anchor the collection. Presented against a muted backdrop, the culturally-inspired looks wear the same simple beauty looks and ornate fashion patterns, allowing their disparity and differences to be focused in the unique hair looks.
"It's been a very humbling experience to research the unsung female explorers of the past," Candice said. "These women are really gusty women who followed their dreams, entirely undeterred by the patriarchal society in which they lived. It was a challenge and a pleasure to create this collection, honouring those women."
Just another example of how editorial style can be utilised as art to showcase the differences that actually unite us. The Brave collection presents hair as one of the many facets that make global cultures so worth exploration.
For more information visit hairjamm.com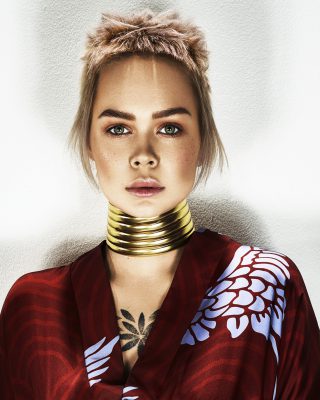 Click here for Styleicons|TV.