Danny Pato made enormous history at the 2019 Hair Expo Awards, winning the title of new Zealand Hairdresser of the Year for the fourth consecutive year and cementing himself as a global hairdressing icon. His winning Tori collection was well worth the accolades, bursting onto the scene with bright colours and complementary illustrations of birds to become an evocative representation of Danny's artistic world.
The bold collection was shown to the awards audience in a video to begin the night, taking these images beyond the second dimension and showing their multifaceted aesthetic. The Eastern inspired collection (most obviously showcased in white painted faces adorned with a uniquely shaped red lip) shows off mostly dark hair looks styled and cut in bobs, undercuts, original textures and intricate shapes.
"Winning [Hair Expo New Zealand Hairdresser of the Year] even after four times still feels amazing. It keeps pushing me further and further and I keep aiming to come back stronger, and more unique. I love pushing myself and I love the challenge. Winning tonight still feels like the first time," Danny said.
Jumping off the stage with vivid high fashion styling created in Danny's own enthralling fashion designs and eye-catching accessories, the Tori collection, much like Danny's other winning images, won't leave your consciousness any time soon. Congratulate Danny and be inspired by his full winning collection below.
CREDITS
Hairdresser/Art Director/Fashion Design: Danny Pato, D&M Hair Design, using Davines and ghd
Photographer: Mara Sommer
Iluustrator: Kelly Thompson
Stylist: Rachel Morton
Makeup Artist: Kiekie Stanners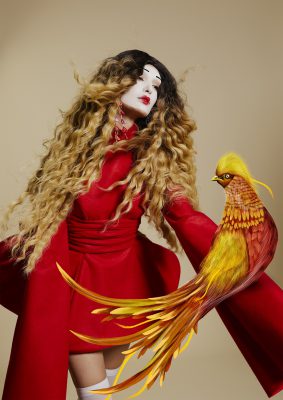 Click here for Styleicons|TV.