New Italian style innovations are ready and available for you to get your hands on immediately. The coveted Parlux Alyon Jade Air Ionizer Tech Dryer and Parlux 3200 Plus tools are now available across Australia for wholesalers and salons to purchase, after a much-anticipated wait for the tools to drop on our shores and be purchasable cross country.
The hype for these international tools is understandable. The Parlux 3200 Plus is a newly redesigned hero tool that combines modern innovations with Parlux's trusted and well-tested technological touch points. The tool has ideally curved handles to suit the shape of the user's hand and ensures it doesn't slide to the top of the handle. Hairdressers can also hold the dryer by the barrel when drying hair from the top downwards. Technologically, it is equipped with a Ciaramella K-LAMINATION motor for longevity and power, with a greater air flow and optimisation of drying capabilities. The powerful tool has a duration of 2000 hours and boasts 1900 Watts of power. All Parlux Dryers come with a 2-year warranty for additional peace of mind.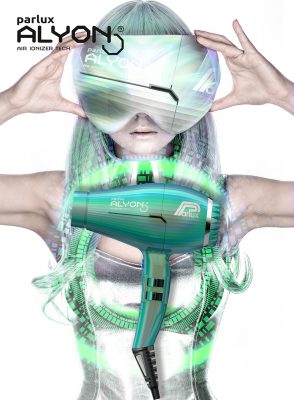 The striking Parlux Alyon Jade Air Ionizer Tech Dryer combines the power of its motor with smart ergonomics and balance, set at only 456 grams. The tool merges an iridescent colour and look with stellar performance and results, anchored by the aforementioned Air Ionizer Tech Ionic Technology that ensures a shiny, smooth and healthy finish. The technology protects the hair, locks down cuticles and ensures shine. It also combines the effect of ceramic and negative ion charge to preserve natural moisture and allow hair to reach its best quality. Droplets of water are transformed into micro molecules that are absorbed by the hair, ensuring health and condition.

The new K-Advance Plus motor offers a longer lifespan of 3000 hours, with 2250 watts of power and 84 cubic metres per hour airflow for faster drying. The Hair Free System is a simple way to keep this motor clean. The brand's iconic handles make for a smart design and can be used by hairdressers for 14 hours a day within the salon, and 16 hours on set. It also contains Soft Touch switches, a Cold Air Button and two concentrator nozzles to direct airflow. The dryer has four temperatures and two speed settings to make sure it is ideal for all the hair types and textures that walk into your salon.
These professional, modern and trendy products are well suited to your salon, kit and retail offering – now that they've arrived in Australia, there's no reason to wait a moment longer to get them into your hands. Parlux is a renowned, award-winning brand that has won the InStyle Best Beauty Buys award for Best Hair Dryer 13 years in a row, speaking to its extreme professionalism and ingenuity. These are tools you need in your kit immediately.
For more information visit Dateline Imports P/L via datelinecity.com or follow Parlux Australia Facebook or Parlux Hair Instagram.
Click here for Styleicons|TV.