Lisa Burns with salon owner Marina Costa
Award winning salon group rokk ebony has made history by giving one hard-working team member a brand new car.
Senior hairstylist Lisa Burns, has walked away from the rokk ebony company awards function with a brand new Hyundai Kona. Lisa was one of twenty senior hairstylists in the draw from three of the qualifying salons.
Managing director, Maurice Torcasio said, "Our company chose to reward our teams with one BIG incentive to boost overall results. Rewarding our teams for their achievements over a twelve month period was a new approach. We wanted to offer our hard working employees with a life changing reward. Team members loved the idea of winning a car. How many employers have the ability to offer such great rewards for consistent hard work. A car was not the only bonus the team could work towards with numerous overseas holidays also handed out during the incentive period. We think this is the first time in the hair and beauty industry that a car has actually been given away in such a staff promotion."
Lisa was overwhelmed and said, "It's life changing. To be rewarded in my career after all these years of hard work has come at a vital stage. This will greatly help me to get ahead in the future. I have been working for rokk ebony since I was 15 year old. I would have never imagined as a hairstylist I could receive such a large reward. Lisa continued, "It's a big achievement for teams to hit the target and reflect on the years hard work everyone put in every single day. Congratulations to everyone who was placed in the draw. It's AMAZING! I feel the hard work has paid off and what an awesome present for Christmas. Not many people get a car as a Christmas bonus."
Maurice commented, "Our approach was to boost sales results which absolutely worked. Three salons increased their overall performance year over year by twenty percent. Each team member of the three salons was then placed into the draw to win." "The idea to give away a car," said Maurice, " The idea evolved from discussions with Wella Professionals' Corina Gerecke. Overall it was a great success. Appreciation is an ongoing process. It's important our staff feel appreciated and recognised for their success, results and effort. It's something rokk ebony has always provided to each staff member over all the years of its evolution. Our ROKKSTARS can now say they have been part of making history. "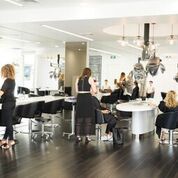 Maurice stated, "Our passionate and highly skilled award-winning staff are the success of our business. We nurture, inspire and provide ongoing in-house education and training to develop our teams' passions, skills and creativity. We are always looking to recruit like-minded people at all levels who share our vision. After all who wouldn't want to work for a company that has an award-winning track record and can offer all the above?" To find out more about working for rokk ebony email mason@rokkebony.com.au and/or call 03 9560 0011. www.rokkebony.com.au